INTERESTING BOOKS
60 met een + - Zinvol, creatief en succesvol ouder worden.
(ISBN : 978 90 8249 1562)
Els Messelis
60-plusser, senior, oudere volwassene,… De termen om de generatie van voor 1960 te beschrijven, zijn legio. Maar wie zijn ze nu eigenlijk echt, die gepensioneerden van vandaag?
In haar nieuwe boek '60 met een plus' biedt Els Messelis een inzicht in de mogelijke rijkdom van het leven na 60. Want met pensioen gaan mag dan wel van alle tijden zijn, de tijden zijn onherroepelijk veranderd! Gepensioneerden van nu zijn vaak nog jong en dynamisch, ze staan vol goesting en met passie in het leven. Ze willen nog mee het verschil maken in de maatschappij en bouwen vaak een nieuwe carrière uit, gaan als vrijwilliger of mantelzorger aan de slag, ondersteunen kinderen en kleinkinderen of ontpoppen zich als kunstenaar, schrijver, musicus of politicus…
Daarnaast breekt voor velen onder hen ook het moment aan om (opnieuw) meer tijd te besteden aan de partner, de vrienden en/of aan zichzelf. Talentenlijstjes worden van onder het stof gehaald, bucketlists opgesteld, plannen gesmeed: het grote genieten kan gaan beginnen. Tot het 'zwitserlevengevoel' om de hoek gluurt…
In zeven overzichtelijke hoofdstukken gaat Els Messelis in op elk aspect van het leven na zestig, en biedt ze je – in verbondenheid met jezelf en met alles en iedereen om je heen – een 'receptenboek' aan om zinvol, creatief en succesvol ouder te worden. Dit in het volle besef dat het leven niet altijd even lief voor je is. Het is een spel van kansen krijgen en kansen grijpen.
De Wabi Sabi-gedachte is in het boek nooit ver weg en staat voor een nieuwe kunst van het ouder worden!
Bestelinfo: http://www.uitgeverijneno.be/boeken/60-met-een-plus/
Als Amor de draad kwijtraakt
Nelle Frederix, Sabine Boerjan, Christian Verelst
Over seksualiteit en intimiteit bij personen met dementie
Door Nelle Frederix , Sabine Boerjan , Christian Verelst
Meer info: https://www.acco.be/nl-be/items/9789463442411/Als-Amor-de-draad-kwijtraakt-

Brocklehurst's Textbook of Geriatric Medicine and Gerontology. Edition No. 8
(ISBN : 3688094)
Drs. Howard M. Fillit, Kenneth Rockwood, and John B. Young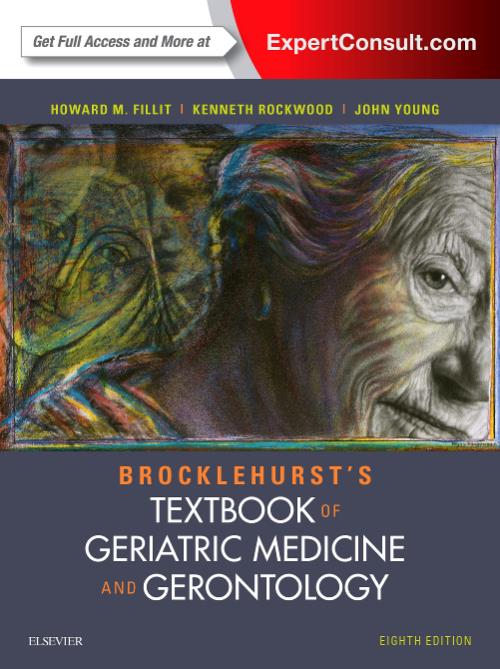 The leading reference in the field of geriatric care, Brocklehurst's Textbook of Geriatric Medicine and Gerontology, 8th Edition, provides a contemporary, global perspective on topics of importance to today's gerontologists, internal medicine physicians, and family doctors. An increased focus on frailty, along with coverage of key issues in gerontology, disease-specific geriatrics, and complex syndromes specific to the elderly, makes this 8th Edition the reference you'll turn to in order to meet the unique challenges posed by this growing patient population.

For more information please visit our product page.


Démences
(ISBN : 978-2-7040-1429-3)
Bruno Dubois, Agnès Michon
Le traité de référence sur la maladie d'Alzheimer
et les maladies apparentées.
À travers 55 chapitres détaillés, cette nouvelle édition regroupe toutes les connaissances et les récents progrès sur le diagnostic, la recherche, les traitements, la prise en charge et les aspects médicoéconomiques et éthiques des différentes démences.
http://www.jle.com/fr/ouvrages/e-docs/demences_304029/ouvrage.phtml

Euthanasia and Assisted Suicide
David ALbert Jones, Chris Gastmans, Callum Mac Kellar
La sexualité des personnes âgées (ISBN : 978-2-7573-0480-8)
MANOUKIAN, Alexandre
dans la série Soigner er accompagner

Leerboek Geriatrie - Probleemgeoriënteerd werken met ouderen (ISBN : 9789058980311 )
Marianne van Iersel, Martin Smalbrugge, Marjolein van de Pol, Mirko Petrovic, Sophia de Rooij, Marcel Olde Rikkert (redactie)

Traité de médecine d'urgence de la personne âgée (ISBN : 978-2-7184-1263-4)
BODDAERT, Jacques - RAY, Patrick
Un livre complet sur le sujet avec 1280 pages.

ˆ top